Warren M. Hern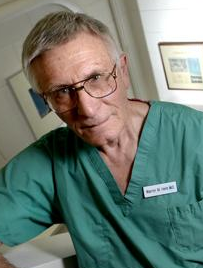 Abortion Mill
Phone Number
303-447-1361
Address
1130 Alpine Ave.
Boulder, CO 80304
Other info
"Life on the Front Lines" -- Essay by abortionist Warren Hern, MD - Women's Health Issues, 1994 After 40 years in Boulder, abortion doctor Warren Hern is still at war -- DailyCamera Boulder News, 5-30-2015 The First Legal Abortion Providers Tell Their Stories -- NYMag.com, 10-13-2015
Surgery: Yes
Medication: No
Photos
Video

Published May 19, 2015: Abortionist Warren Hern, MD, at the Boulder Abortion Clinic.


Documents
Licenses

Malpractice History

hern case complaint 2015
Federal malpractice suit alleges that Hern negligently conducted a late second trimester abortion and failed to realize he left a 4 cm piece of the baby's skull in the woman's uterus. She eventually required a hysterectomy to remove it after suffering months of health issues. This case in pending as of 4/26/2016.
Misc Documents