Jacob Kalo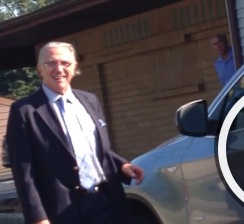 Abortion Mill
East GYN Women's Center
Womancare of Southfield
Women's Center
Women's Center

Medical School
Sackler School of Medicine
Phone Number
248-932-1777 586-751-7070 313-526-3600
Address
6765 Orchard Lake Rd. 28477 Hoover Road 15650 E 8 Mile Rd.
West Bloomfield, Warren, Detroit, MI 48322 48093
Other info
Kalo has taken over two clinics for the retired abortionist Alberto Hodari in Sterling Heights and Southfield, MI. MI medical license profile - Jacob Kalo Jacob Kalo, professional profile and practice locations Abortion Doctor Sues City Over Security Gate Dispute Kalo vs. Commissioner of Internal Revenue, 6-9-1998 (Kalo appeals tax fraud conviction, loses case) Hutzel Women's Hospital, doctor directory - Jacob Kalo
Surgery: Yes
Medication: Yes
Photos
Video


911 Abuse: Abortionist Jacob Kalo calls 911, spends valuable minutes complaining to emergency dispatcher about pro-lifers in lounge chairs outside his clinic. Kalo ties up the busy 911 line arguing with the dispatcher, who places him on hold multiple times to take several emergency calls during his long-winded rant.
Documents
Misc Documents


Licenses

Kalo, Jacob - Michigan apps
Jacob B. Kalo: Applications to Michigan Dept. of Licensing for controlled substance license, 2-7-13 and 1-29-13. Applications to Michigan Medical Practice Board for medical license in state of Michigan, circa 1977 -1979.
Malpractice History

Cummings vs. Kalo - Apr 1, 2008
Ms. Cummings, age 25, sues Jacob Kalo for negligence in failing to determine an ectopic pregnancy and performing an unnecessary abortion, which resulted in her emergency hospitalization, permanent damage of reproductive organs, and loss of her left fallopian tube.
Criminal History

IRS v JACOB KALO
Conviction on 3 counts of failing to provide the IRS with tax information. Sentenced to 1 yr. probation.

Jacob Kalo vs. Commissioner of Internal Revenue, 6-9-1998
June 9, 1998: Jacob Kalo appeals his tax fraud conviction. Kalo loses appeal, as court upholds previous ruling finding him guilty of tax fraud -- including hiding hundreds of thousands of dollars of untaxed earnings in foreign bank accounts, and falsely denying hundreds of thousands of dollars in interest income.