Traci L. Nauser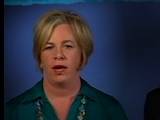 Abortion Mill
Medical School
University of Missouri-Kansas City School of Medicine
Phone Number
913-491-6878
Address
4840 College Blvd.
Overland Park, KS 66211
Other info
Surgery: Yes
Medication: Yes
Photos
Documents
Licenses

Malpractice History

Boyd v. Hodes 14CV05772
2014 suit against Hodes, Nauser, and their abortion business for a horribly botched hysterectomy. Ureter sliced, abdomen filled up with urine causing infection. Failed to refer for emergency treatment.
Misc Documents