Feliciano Rios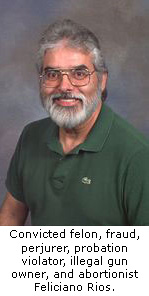 Medical School
University of California Los Angeles School of Medicine
Phone Number
619-427-7600
Address
750 Medical Center Ct. Ste 8
Chula Vista, CA 91911
Other info
Former abortionist at: Ob-Gyn Office of Dr. Chac & Dr. Rios Medical Board Acts To Revoke Gun-Toting Abortionist/Convicted Felon California Disciplines Two Abortionists: Revokes One, Suspends Another Feliciano Rios, professional profile Clinic formerly known as: Office of Dr. Feliciano Rios (previously located at 1079 3rd Ave. Ste. C, Chula Vista, CA 91911)
Surgery: Yes
Medication: No
Photos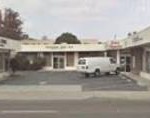 Documents
Licenses
Disciplinary History

Probation Completed Notice
Oct. 27, 2016: Rios CA medical license was restored to "active" status after the completion of probation related to a 2011 case involving perjury and firearms violations. He is free of probationary restrictions.
Criminal History

Rios Felony Charges 2013
Convicted of felony insurance fraud and felony perjury under oath; charged with felony possession of ammunition by a convicted felon and violation of medical practice act.
Misc Documents

Rios, Feliciano - 1996 laboratory sanction (former office location)
page 13: Feliciano Rios, M.D. 1079-C Third Avenue Chula Vista, CA 91911 CLIA No. 05D0717374 SANCTION:Cancellation of approval to receive Medicare payment for all laboratory services, suspension and proposed revocation of CLIA certificate. EFFECTIVE DATE: January 1, 1996 - April 22, 1996 REASON: Failure to submit an acceptable plan of correction for non-compliance. STATUS:Hearing filed February 14, 1996. Laboratory subsequently submitted evidence of correction and sanctions lifted effective April 23, 1996.