Dezra White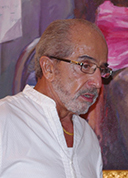 Abortion Mill
Northpark Medical Group (affiliated with Aaron's Women's Clinic)
Aaron's Women's Clinic
Crescent City Women's Center, Dr. White

Medical School
University of Texas medical Branch-Galveston
Phone Number
713-659-5010
Address
2101 Crawford St. # 312
Houston, TX 77002
Other info
Board found White failed to safeguard against complications and failed to keep accurate medical records
Surgery: Yes
Medication: Yes
Photos
Documents
Disciplinary History

Complaint-08032010
Failed to keep adequate medical records, failed to properly monitor one pregnant patient after 23 weeks resulting in a dead baby at 35 weeks,

Corrective Order-08262011
Terminated patient care without adequate notice. Board ordered him to take continuing education classes.

Order-01181997
Ordered to pay $10,000 and issued a public reprimand for altering patient medical records (blood pressure readings) after a patient pregnant with twins suffered eclampsia. Both babies died and woman suffered brain damage. A Malpractice suit filed in this case awarded plaintiff $900,000.

Order-02042011
Failed to adequately monitor a pregnant patient or make standard notations in her records. Baby died shortly after birth. Ordered to submit to Board monitoring.