Ventura Center-Planned Parenthood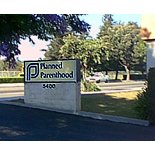 Abortionist
Joseph Marmet
Virginia A. Siegfried
Virginia Siegfried, MD, is medical director of PP for Santa Barbara, Ventura, and San Luis Obispo Counties.

Phone Number
805-658-3232
Address
5400 Ralston St.
Ventura, CA 93003
Other info
Medication: Yes
Photos
Documents
Documented Death or Injury

13-0068526 Inc. Detail Report
Nov. 6, 2013: Medical Emergency originating at Planned Parenthood. Patient unconscious and required Advanced Life Support. PP did not call 911 but the call came through a non-emergency number according to the codes. Patient transported to Ventura Co. Medical Center.
Misc Documents