Stapleton-Planned Parenthood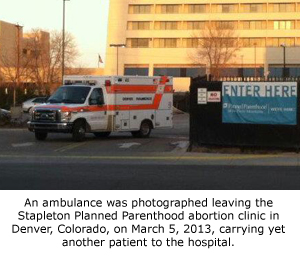 Abortionist
Caitlin C. Burton
Reid Goodman
Savita Ginde

Phone Number
303-321-2458
Address
7155 E 38th Ave
Denver, CO 80207
Other info
Botched Abortion: Bleeding Woman Rushed to Hospital from Planned Parenthood in Denver, Aug. 15, 2016 Medical Emergency at Colorado Planned Parenthood - Oct 26, 2012 The many masks of abortionist Reid Goodman PP Faces Lawsuit in Child Rape and Abortion Scandal
Medication: Yes
Photos
Video
Documents
Documented Death or Injury

CAD-08132016-Heavy-Bleeding
August 13, 2016: Abortion patient suffered heavy vaginal bleeding after "procedure." Required emergency transport to ER.



PP Denver - 911 CAD Transcript - Oct 26, 2012
The CAD Transcript indicates that a woman was transported from Planned Parenthood using Code 2, which denotes a serious, but not immediately life-threatening condition. The transcript used medical codes that indicated the woman suffered a severe hemorrhage related to an ectopic pregnancy.
Misc Documents


2013 Form 990 - PP of the Rocky Mountains Inc
Planned Parenthood of the Rocky Mountains Inc -- State: CO -- Net Assets: $29,417,513 -- Gross Revenue: $33,444,156 -- Net Revenue: $-2,474,559 -- Key Worker 1: Savita Ginde (Medical Director) -- Key Worker 1 Compensation: $263,324 -- Key Worker 2: Shauna Jamison (Medical Director) -- Key Worker 2 Compensation: $143,158