Women's Center of Hyde Park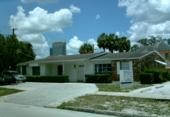 Abortionist
Phone Number
813-258-5995
Address
502 S Magnolia Ave.
Tampa, FL 33606
Other info
Operated by Denise Williams, former wife of James Scott Pendergraft IV. Former clinic abortionist: Merri B. Morris
Medication: Yes
Photos
Documents
Licenses

Disciplinary History

WCHP Fine-04142017
4/14/2017 fine of $200 for failing to file termination of pregnancy reports. This is the most recent of seven violations resulting in fines.
Misc Documents