Abortion Contraception Clinic of NE -- (aka Abortionclinics.org - Bellevue)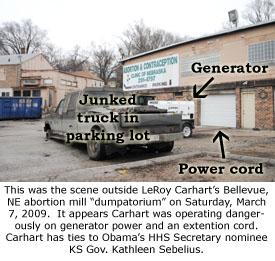 Abortionist
Leroy H. Carhart (aka Leroy Harrison Carhart, Jr)
Shana Melody Miles

Phone Number
402-291-4797
Address
1002 W Mission Ave.
Bellevue, NE 68005
Other info
911 from 2005: Abortion Worker Withholds Critical Information About Dying Abortion Patient, 5/30/2018
Watch: 911 Records Show Carhart Abortion Patient Hemorrhaged Half Her Blood Volume, 5/29/2018
"Butcher of Bellevue" Strikes: 17-Week Abortion Gone Wrong At Carhart's Nebraska Abortion Mill, 3/27/2017
Carhart Subpoenas Seek Records of Baby Parts Trafficking & Aborted Babies Born Alive
New 911 Recording: Incomplete Abortion, Bleeding Hospitalizes Carhart Nebraska Patient
What would a late-term abortionist say to med students? I found out.
Carhart Worker to 911: "We had an issue with the procedure"
911: Moans, Screams Heard from Botched Abortion Victim at Carhart's Nebraska Clinic - March 31, 2012
Nebraska Attorney General Seeks License Revocation of Carhart's Only Nurse for Improperly Drugging Patients, Other Violations - May 22, 2013
The "Abortion Contraception Clinic" is also known as the "Bellevue Health Center."  See clinic license documents below.
AbortionClinics.org has two sister clinics -- one in Bethesda, MD, and one in Bellevue, NE.
Medication: Yes
Photos
Video
Documents
Licenses
Disciplinary History
Documented Death or Injury
Misc Documents