Planned Parenthood - Lincoln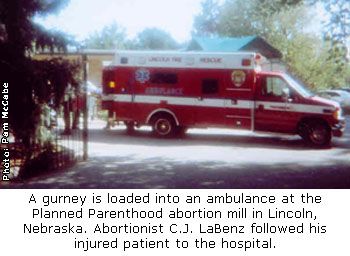 Abortionist
Deborah Turner
Jill L. (Vibhakar) Meadows
Lisa M. Banitt

Phone Number
402-441-3333
Address
5631 S. 48th St.
Lincoln, NE 68516
Other info
Former clinic abortionist: C.J. La Benz Former clinic abortionist: Nicola Louise Moore Former clinic abortionist: Clay C. Whitehead Botched Abortion at Nebraska Planned Parenthood Sends Woman To Hospital Woman loses 80% of blood after abortion; Planned Parenthood settles suit Botched Abortion Victim Sues Planned Parenthood Abortionist
Medication: Yes
Photos
Documents
Malpractice History

Roe vs. PP Nebraska - Aug 31, 2007
Aug. 31, 2007: Medical Malpractice complaint for abortion patient "Jane Roe." Patient lost 80% of her blood volume and required an emergency hysterectomy, after a botched abortion at the Planned Parenthood South Street Center in Lincoln, NE.
Misc Documents

Letter-DHHSreLincolnPP violations 03272015
March 27, 2015 letter from DHHS indicating an investigation of Operation Rescue's complaint against Planned Parenthood in Lincoln, NE would take place. Operation Rescue provided photos of an ambulance entrance completely blocked and unusable by construction debris and a 5-6 foot deep trench, saying that the blockage of the ambulance entrance could have endangered women's lives.