Trust Women Wichita -- (formerly South Wind Women's Center)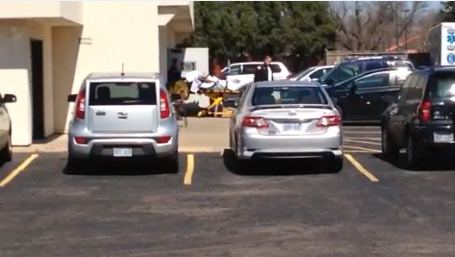 Abortionist
Andrea Chiavarini
Colleen P. McNicholas
Leslie Ellen F. Page
Sara Beth Pentlicky
Thomas Russell Horton, Jr. (aka Dr. T. Russell Horton)

Phone Number
316-260-6934
Address
5107 E. Kellogg Drive
Wichita, KS 67218
Other info
911 Recording: "Trust Women" Abortion Mill Leaves Woman Lacerated, Hemorrhaging, 11/8/2018 Former clinic abortionist: Allen S. Palmer Former clinic abortionist: Cheryl Ann Chastine Former clinic abortionist: Robin Bresette Desperate 911 Call: Abortion Being Forced on Scared Teen at Wichita Abortion Clinic Dec. 1, 2015 BOTCHED ABORTION: Ambulance Transports Patient From Wichita Abortion Clinic in Former Tiller Building 03/26/2015 Students, Congressman Brave Arctic Temperatures to Pray for an End to Abortion Man Attacks, Threatens to Shoot, Pro-Life Activist Outside Abortion Clinic in Wichita, Kansas Postcards Featuring Abortion Victim Photo Spark Controversy in Kansas Abortionists Jump Ship from Wichita Abortion Clinic as Fines and Scrutiny Mount  FEC Issues Two New Deficiency Letters to Wichita Abortion Clinic Owner Complaints Filed Against Wichita Abortion Clinic Owner Over Missing $37,000 in PAC Contributions Abortionist Allen S. Palmer has a felony conviction for Federal Income Tax evasion - was placed on probation for 5 years by the State of Missouri Elderly, blind, pro-life activist arrested for attempting to stop abortion guard from stealing sign Opened April 2013
Medication: Yes
Photos
Video
Documents
Licenses

Disciplinary History

Palmer, Allen S. - Medical License Probation, 1-30-1981
Jan. 30, 1981, State Board of Registration for the Healing Arts - Palmer's medical license placed on probation for 5 years, from Jan. 1981 through Jan. 1986. Registration Board required Palmer to provide 180 hours per year of free charitable medical services, for a total of five years, in lieu of surrendering his medical license.
Documented Death or Injury


Misc Documents

South Wind Women's Center -- Abortionist list -- Kansas 24-Hour Informed Consent -April 2018
April 2018 abortionist list includes: Colleen McNicholas, DO, Leslie Page, DO, Andrea Chiavarini, MD, Sara Pentlicky, MD, and Thomas R. Horton, MD. See pages 1, and 4-6.


Police Report Re Alleged Forced Abortion 11112015
Nov. 11, 2015 - Police Report related to an alleged forced abortion incident involving a high school student who was being held against her will at the abortion clinic. Owner Julie Burkhart blocked police from checking on the welfare of the girl.