Straub Clinic & Hospital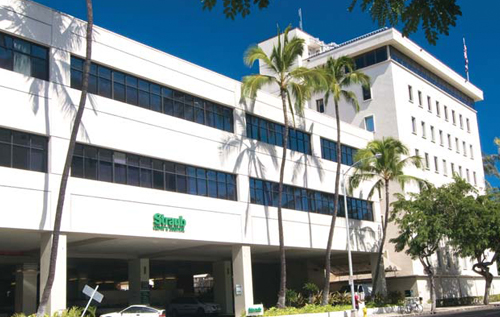 Abortionist
Bradley W. Sakaguchi
Mikiko A. Yazawa Bunn
Reagan Ponder
Ronnie B. N. Texeira
Russell S. Fujioka
Straub Clinic & Hospital has five ob/gyn clinics which schedule medical or surgical abortions by appointment with an ob/gyn doctor. Drs. Bunn, Fujioka, Ponder, Sakaguchi, and Texeira all do abortions by appointment. Surgical abortions are performed at Straub Hospital or Kapiolani Medical Center.

Phone Number
808-522-4777 (ob/gyn services) or 808-522-4331 (clinic)
Address
888 S. King St., Palma Building, 3rd Floor
Honolulu, HI 96813
Other info
Straub Clinic & Hospital, Ob/Gyn Services -- Includes "termination of pregnancy" Straub Clinic & Hospital, Women's Services -- Includes "termination of pregnancy" Straub Ob/Gyn Doctors and Clinic Locations -- See profile info on ob/gyn abortion doctors Bunn, Fujioka, Ponder, Sakaguchi, and Texeira. Hawaii Pacific Health -- Find a Physician (Search by last name for profile info) Straub Clinic & Hospital -- official Facebook page June 2015: Straub Clinic & Hospital provides medical and surgical abortions through their ob/gyn doctors.  Straub advertises "termination of pregnancy" as an ob/gyn service on their website.  They have five ob/gyn clinic locations where abortions can be scheduled by appointment: the Family Health Centers at Pearlridge, Kai, Kaneohe, and Mililani; as well as the ob/gyn dept. in the Palma Building at the main Straub Hospital on King Street in Honolulu.  Each Family Health Center clinic has at least one doctor who does abortions by appointment; however, the doctors perform surgical abortions at Straub Hospital or at Kapiolani Medical Center. NO LONGER DOING ABORTIONS. DEC 2015
Medication: No
Photos
Documents
Misc Documents

Straub Clinic & Hospital - Ob-Gyn Doctors and Clinics
List of ob/gyn doctors and clinics. Drs. Bunn, Fujioka, Ponder, Sakaguchi, and Texeira all do abortions at various clinic locations. NOTE: Straub Clinic at Waterfront Plaza no longer has an ob/gyn dept, and does not perform abortions. Confirmed by phone call 6-29-2015 BE