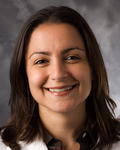 Abortion Mill
Stamford-Planned Parenthood
Medical School
University of Miami School of Medicine, 1999
Affiliations
Yale-New Haven Hospital, Inc.
Phone
203-327-2722
Address
1039 E. Main St., Stamford, CT 06902
Procedures
Surgery:
YES
Medication:
YES
Other Info
Anna Sfakianaki was sued by the Jacovino family after she failed to diagnose Rachael Jacovino's faulty umbilical cord insertion and vasa previa.  Rachael Jacovino subsequently hemorrhaged, and required an emergency Cesarean section.  The undiagnosed conditions caused baby Vincent J. Jacovino to suffer serious brain injuries.  Baby Vincent underwent painful cooling treatments in an attempt to save his life, but he died 2 days after birth.  His parents sued Dr. Sfakianaki for carelessness and negligence which caused the death of their baby son.  See documents below.