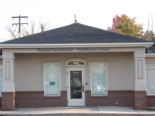 Abortionist
Heather E. Quinn
Phone
208-376-9300
Procedures
Surgery:
NO
Medication:
NO
Other Info
Woman rushed to emergency room from Idaho Planned Parenthood – Aug 16, 2012
Clinic is an affiliate of Planned Parenthood of the Great Northwest, and Planned Parenthood Votes Northwest and Hawaii.  See documents below.
Discontinued surgical abortions in 2018; moved to medical clinic list.
Inactive surgical clinic: 3668 N. Harbor Lane, Boise, ID 83703