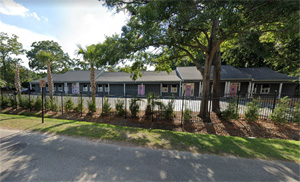 Abortionist
Jack W. Simmons, Jr.
Wesley Frazier Adams Jr.
Richard Oliver Manning
Gretchen Anne Reinhart
Angela Richardson Dempsey-Fanning
James Collis Oliver
Phone
843-628-4380
Procedures
Surgery:
YES
Medication:
YES
Other Info
Video: Planned Parenthood Manager Responds to Hemorrhaging Woman's Pain After Abortion with a Laugh, 4/14/2021
Closed 11/13/2017. Building bought by PP, and renovated to be an abortion clinic.   Clinic reopened in January 2018, and began performing abortions.
Also known as the "West Ashley Planned Parenthood."
Former Clinic Abortionist: Gary Clayton Boyle
Former Clinic Abortionist: Nicholas Stuart Fogelson
Planned Parenthood Clinic Faces Fines for How ItDisposed of Body Parts From Aborted Babies
Planned Parenthood will keep providing abortions in compliance with fetal heartbeat bill