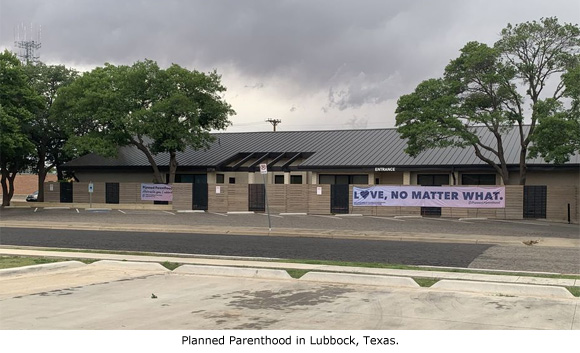 Abortionist
George "Sealy" Massingill
Phone
806-792-6331
Procedures
Surgery:
YES
Medication:
YES
Other Info
Lubbock Planned Parenthood Halts Abortions as Suit Against City Ordinance that Bans Abortions is Dismissed, 6/2/2021
Stopped conducting abortions on June 1, 2021, after an ordinance declaring Lubbock a Sanctuary City for the Unborn went into effect that essentially bans abortions with the City of Lubbock.  A federal court judge dismissed Planned Parenthood's lawsuit the same day.  This is an ongoing situation. Check back for updates.
Began offering abortion pills in April 2021.
Old location:  3302 67th St., Lubbock, TX 79413.
Formerly – Planned Parenthood – Lubbock (formerly Aaron Women's Health Center)
Former clinic abortionist: Dallas Wayne Johnson
Former clinic abortionist: John Malcolm MacKenzie
Former clinic abortionist: Margaret Gail Vanderlee
Former clinic abortionist: Soren John Vindekilde
Planned Parenthood clinic in Lubbock taken over, abortions stop – Nov 1, 2013
CEO of Planned Parenthood Arrested for Indecent Exposure (LifeNews.com)
Planned Parenthood CEO who criticized sonogram law arrested for indecent exposure
Lubbock Planned Parenthood CEO arrested for indecent exposure
Interim CEO Tara Haskell
Planned Parenthood of Greater Texas Tim Lambretch