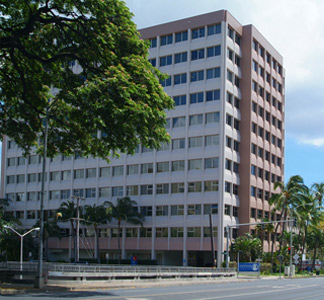 Abortionist
Reni A. Soon
Bliss E. K. Kaneshiro
Jennifer L. Salcedo
Gaylyn G. Li
Phone
808-203-6561 (clinic) or 808-203-6580
Procedures
Surgery:
YES
Medication:
YES
Other Info
This facility stopped doing abortions and is sending patients to its other location.
Former abortionist: Katherine "Kate" C. Whitehouse
The University of Hawaii Women's Options Center has two locations.  Also see the page for  Women's Options Center – location at Queens Office Building 3.
This location is open, but listed as "inactive" on AD because it is a hospital-based abortion clinic.
The University of Hawaii Women's Options Center is a "general ob-gyn office" that provides prenatal care and gynecology services, but also performs medical and surgical abortions.  Physicians are faculty from the University of Hawaii John A. Burns School of Medicine, and abortion procedures are sometimes attended by residents and student physicians-in-training.
Women's Options Center has two sites, located within hospital buildings at Kapiolani Medical Center and the Queens Physicians Office Building 3.  Both locations do surgical and medical abortions. Appointments are scheduled at the Kapiolani location on Tues, Wed, and Thurs, and at the Queens location on Mon and Tues.  Details confirmed on 4-6-15. BE
Abortion payment and billing is handled by UCERA (University Clinical, Educational, and Research Associates) located at 677 Ala Moana Blvd. Ste 1003, Honolulu, HI, 96813. See the patient Service Agreement form for details.