Reading Medical Center-Planned Parenthood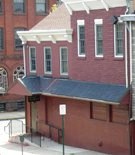 Abortionist
Alison Beth Post
Daniel M. Schwartzman
Timothy Fouch Liveright

Phone Number
610-376-8061
Address
48 S. 4th St.
Reading, PA 19602
Other info
James Anasti, Medical Director, Planned Parenthood of Northeast and Mid-Pennsylvania
Lillian E. Coleman, CNRP
Medication: Yes
Photos
Documents
Misc Documents

Reading Medical Center, PP - PA Health Inspection - 6-6-12
PA Health Dept. Inspection, June 6, 2012 - Report findings include: abortion clinic failed to document obtaining informed consent from patients, clinic failed to include required informed consent information on procedures' risks, benefits, and alternatives, and clinic failed to ensure there was a medical professional in the facility who was certified in advanced cardiac life support. Additional details in report.