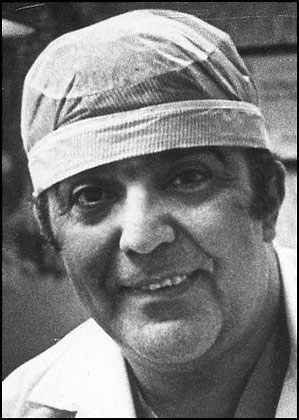 Medical School
University of Heidelberg - West Germany, 1962
Address
Norfolk, VA
Procedures
Surgery:
YES
Medication:
NO
Other Info
Former abortionist at: American Women's Clinic
Iranian-born abortionist Parviz Modaber worked with owner Chris Simopoulos at the American Women's Clinic locations in Norfolk and Falls Church, VA. The pair were arrested on felony charges for performing illegal abortions. Modaber was charged with a felony after botching an illegal abortion on a 15-year-old girl, who had to be hospitalized and have a crushed fetal head removed from her body.  However, he was acquitted of felony charges after a hung jury.
Modaber was also sued for malpractice by an ob/gyn patient.  Jessie Marie Kelley went into premature labor and the baby was in fetal distress.  Modaber ignored multiple emergency calls from the hospital, and slept through the high-risk labor.  When Modaber finally arrived hours later to perform a cesarean section, Kelley's baby boy had been born dead.  Kelley sued, and the jury awarded her $750,000.  After years of patient injuries, lawsuits, criminal charges, and threatening to kill his hospital chief of staff with a gun, Modaber was forced to surrender his VA medical license.
The disgraced doctor moved to nearby West Virginia with a permanent grudge against the Virginia Medical Board. He took out his grudge by routinely driving across the state line to dump mail, dirty diapers, and household trash on a Virginia highway.  Exasperated with cleaning up trash, Clarke County residents tracked Modaber down and pressed charges.  From 1999-2005, Modaber was repeatedly penalized, but his revenge dumping continued — despite thousands of dollars in fines, and hundreds of hours of community service.  In May 2005, a judge banished Modaber from Clarke County for two years, ruling he would be jailed if he re-entered.  Modaber died a month later, in June 2005.