FPA Women's Health - Bakersfield (Formerly Family Planning Associates Medical Group)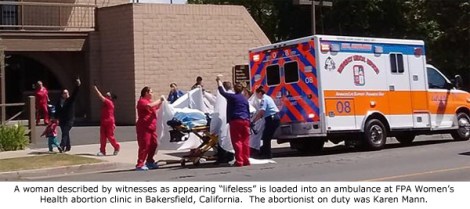 Abortionist
Phone Number
661-633-5266
Address
2500 H Street, Ste.100
Bakersfield, CA 93301
Other info
Former abortionist: Donald Clyde Willis. Abortionist with Mental Health History Sends 5th Patient to Hospital this Year, August 28, 2017 Urgent Public Safety Advisory: FPA Abortion Facility Sends 4th Patient to Hospital in 5 Weeks, February 20, 2017 California Abortionist with Mental Health Issues Sends Two Patients to Hospitals by Ambulance - Feb. 7, 2017 Unlucky: 13th Abortion Patient Removed From CA Abortion Mill Covered Like Mummy, January 11, 2017 Shock 911: One Patient Assaulted, Another Hospitalized at Notorious California Abortion Facility - Nov. 5, 2016 911: Playboy Abortionist On Duty When Teen Suffers Serious Complication - August 8, 2016 UNSAFE: Eleventh Woman Rushed to Hospital from Bakersfield Abortion Facility - July 19, 2016 Bedlam Breaks Out in Bakersfield Abortion Clinic as Ambulance Arrives for Patient - Feb 23, 2016 Six Abortion Businesses that Prove "Roe" Didn't Make Abortion Safe - Jan 20, 2016 Abortionist Calls 911 for "Lifeless" Patient: "Just Need Someone NOW" - April 14, 2015 Safety Crisis: "Lifeless" Patient Rushed From Bakersfield Abortion Clinic to Hospital - Apr 14, 2015 Distraught Husband Calls 911 for Wife When the Abortion Clinic Wouldn't; What Happened Next Was Inexcusable - Mar 31, 2015 Bakersfield Abortion Business Hospitalizes Second Woman this Year, Seventh Since 2012 - March 31, 2015 Possible Heart Attack During Abortion in Bakersfield is 6th Medical Emergency in 2 Years - Feb 3, 2015 First Botched Abortion Victim of 2014 Rushed to Hospital in Bakersfield - Jan 6, 2014 Woman Rushed to Hospital After Botched Abortion in California - Feb 4, 2013 Bakersfield Abortion Clinic Sends Abortion Patient to the Hospital - Oct 15, 2012  Ambulance transports injured patient at Bakersfield abortion clinic - Aug 6, 2012 Former clinic abortionist: Alexander Simpoulos Former clinic abortionist: Jack Dym Former clinic abortionist: Karen Mann Former clinic abortionist: Kenneth Wright Former clinic abortionist: Michael Seth Weiner Former clinic abortionist: Reuben Marmet Former clinic abortionist: Soon C. Sohn Former clinic abortionist: Vernon P. Wagner Former clinic abortionist: Wayne R. Weber Current abortionist is "Dr. Willis." (Dec. 2016) Former or sporadic abortionists include Alexander Simopoulos, Jack Dym, Karen Mann, Kenneth Wright, Michael Seth Weiner, Reuben Marmet, Soon C. Sohn, Vernon P. Wagner, and Wayne R. Weber.
Medication: Yes
Photos
Video
Documents
Documented Death or Injury

CAD-07192016-FPABakersfield
Related to medical emergency where abortion 19 year old abortion patient suffered extremely low blood pressure.

CFS Detail Report - April 14, 2015
April 14, 2015: Abortionist Karen Mann calls 911 for a patient suffering from a dangerous drop in blood pressure immediately after an abortion complication. Computer Aided Dispatch Transcript of the call.
Misc Documents

911 CADs from Bakersfield FPA 11052016
Nov. 5, 2016: A patient called 911 to report she had been assaulted and mistreated by FPA staff. Staff called to report patient was "flipping out." Total of 3 calls.