Curtis Wayne Boyd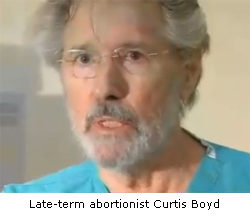 Abortion Mill
Southwestern Women's Options (aka Abortion Acceptance of New Mexico)
Southwestern Women's Surgery Center

Medical School
University of Texas Medical School
Phone Number
505-242-7512?
Address
522 Lomas Blvd NE
Albuquerque, NM 87102
Other info
Ordained Minister turned Dallas Abortion doctor: 'Am I killing? Yes, I am' Ambulance summoned to abortion clinic again – circuit abortionist Curtis Boyd travels between New Mexico and Texas Late term North Texas abortionist under investigation in ABQ. More 911 calls show botched and dangerous abortion complications ABQ Abortion doctor under investigation Curtis Boyd on AbortionWiki The First Legal Abortion Providers Tell Their Stories -- NY Mag, 10-13-2015 Longtime Abortionists Boast About 'Helping Women' Before Roe v. Wade -- CNS News.com, 10-19-2015
Surgery: Yes
Medication: Yes
Photos
Video
Documents
Licenses
Malpractice History

Boyd Lawsuit - 2007
Document shows medical malpractice suit against Curtis Boyd's clinic for abortion complications, including disfigurement, perforated uterus, and uncontrolled bleeding.
Documented Death or Injury

Misc Documents